The Changemaker Fellowship program
is currently undergoing a redesign and will re-open in 2024.
Stay tuned for exciting new developments!
---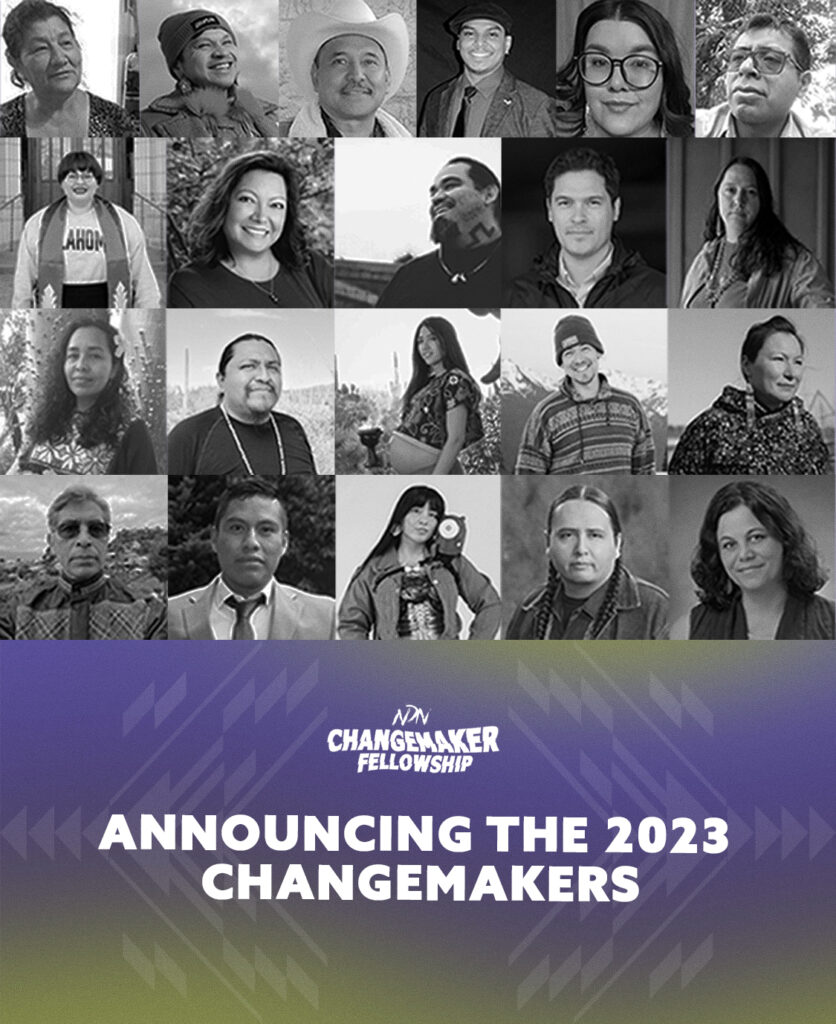 NDN Collective Announces 2023/24 NDN Changemaker Fellow Cohort
The 2023/24 NDN Changemaker Fellow Cohort consisting of 21 Indigenous leaders from throughout Turtle Island and beyond who are radically transforming Indigenous communities by defending Indigenous lands, waters, and rights; developing solutions for the future that regenerate the health of the Earth and our communities; and revitalizing our languages, governance practices, ceremonies, and ways of life.
---
Inquiry
The process begins with a form to determine your eligibility for the Changemaker Fellowship.
Planning
Each accepted nominee will be invited to formally apply by completing the NDN Changemaker Plan.
Interview
Candidates with the strongest NDN Changemaker Plans will be invited for a final interview.
---
NDN Collective's mission is to build the collective power of Indigenous Peoples, communities, and Nations to exercise our inherent right to self-determination while fostering a world that is built on a foundation of justice and equity for all people and Mother Earth. NDN works to transform systems, shift power, and generate sustainable solutions through three core strategies:
Defend – Indigenous Peoples, communities and Nations defend and protect our land, air, water, and natural resources
Develop – Indigenous Peoples, communities and Nations are developed in a regenerative and sustainable manner based on our values and connection to land, culture, and identity
Decolonize – Indigenous ceremonies, cultures, languages, and ways of life are revitalized, recognized, and celebrated
---
Grant Cycle
The Changemaker Fellowship program is currently undergoing a redesign and will re-open in 2024. Stay tuned for exciting new developments!
Eligibility
This opportunity is open to individual Indigenous Peoples over the age of 18 who are working in the defense, development, or decolonization of their communities and Nations whose vision aligns with an honoring of: the interconnectedness of all things, Indigenous self-determination, and equity and justice for all people and Mother Earth. 
NDN Collective defines Indigenous Peoples as ethnic communities whose ancestry descends from the earliest, original inhabitants of a given region, in contrast to groups that have settled, occupied, and/or colonized the region more recently. The land on which we live and the natural resources on which we depend are inextricably linked to our identities, cultures, livelihoods, as well as our physical and spiritual well being. We use Indigenous Peoples with an "s" to recognize the diversity of individuals and groups that identify with the term, which has been distilled to a singular noun throughout history in an attempt to group our people together rather than recognize our differences and diversity. This is consistent with the UN Declaration on The Rights of Indigenous Peoples.
---
Fellowship Purpose
The NDN Changemaker Fellowship is designed to invest in the visions, leadership, and development of Indigenous Changemakers. We believe that our people have the creativity, innovation, and determination to build healthy, resilient futures; defending our homelands and rights, developing model regenerative Nations, and decolonizing and healing our communities and families.
We believe that by directly supporting Indigenous changemakers we are also investing in their communities, organizations and the collective movement. While the NDN Changemaker Fellowship was designed specifically to support individuals, there are other grant programs and opportunities for organizations and communities.
The Application includes questions of Fellowship's required components that will support them as leaders including Theory of Change Mapping, Education & Building Skills, Healing & Wellbeing.
Theory of Change Mapping
It is important for Indigenous leaders to have a bold vision for the world they are working to create as well as a theory behind how they will get there. This will help fellows increase their depth of understanding of their work and enable them to continue to refine and increase their impact. Each fellow will be required to create their own individual Theory of Change, which encapsulates their philosophy for how they believe they can ignite change in the world.
Education and Building Skills
It is vital that Native leaders obtain the education and skills they need to be successful in implementing their work and vision. Each NDN Changemaker Fellow will engage in skills building or education experiences during the fellowship. This can range from pursuing formal education through a degree or certificate program, to specialized training in areas such as grant writing, facilitation, community engagement, etc. Each fellow will identify the skills he/she/they would like to develop over the course of the fellowship to contribute to their effectiveness as a leader.
Healing and wellbeing
Native leaders take on the pain and struggle of their communities, oftentimes at the expense of caring for themselves. The reality is that their own wellbeing is fundamental to sustaining their leadership and creating impact in the world. Therefore, each NDN Changemaker Fellow will commit to focusing on their personal physical, social, spiritual, and emotional wellbeing during the fellowship. Fellows will create a plan for how they will practice self-care and create a path forward for their individual wellbeing.
Mentorship and coaching
Mentorship and coaching are fundamental to the development of strong Indigenous leaders, and can lead to increases in goal attainment, wellbeing, and overall leadership effectiveness. Fellows will be required to engage with a mentor and/or coach of their choosing at least four times (once per quarter) during the fellowship. Mentors can range from an elder or spiritual leader from your community to a professional executive coach.
Network and community building
To continue learning, growing, and creating social change, it is essential that Indigenous leaders have a strong community and network. Fellows will be required to work towards expanding their network and building a community of support around them during the fellowship. This will occur through reflections and information-sharing with other fellows and NDN staff, as well as networking and community building opportunities or conferences identified by each fellow.
Tax Implications
Fellowship funding is taxable income in Canada, the United States, and Mexico. All NDN fellows, upon notification of acceptance, should consult a qualified tax advisor on the implications of receiving the Fellowship, in order to properly plan and manage their finances. We do not control, evaluate, endorse or guarantee any of the advice provided by an independent tax advisor. Further, we do not assume any responsibility or liability for the actions, products, services, and content provided by an independent tax advisor.
Fellowship Requirements
Preparatory online meetings
An online Welcome & Orientation Convening will take place February 2023 to begin introductions of the Fellowship cohort, build connections and provide guidance as fellows begin building their Changemaker Fellowship Plan in preparation of their fellowship starting.
Virtual or In-person gatherings
NDN Changemaker Fellows have two mandatory convenings over the course of the fellowship year. The first Convening is Welcome and Orientation prior to the Fellowship start date, with the purpose of building connection between fellows and NDN Collective's team, ensuring clarity around logistics of the NDN Changemaker Fellowship, and offering support for the development of their NDN Changemaker Plan. The second convening is an Indigenous Leadership Training Retreat designed to deepen and catalyze their work, leadership and development.
Reporting
A reporting guide will be provided to each selected fellow at the beginning of their fellowship. NDN Changemaker Fellows will be required to submit short monthly reflections through the "Changemaker Journal" online, a mid year report and final report at the end of their fellowship year.
NDN Changemaker Alumni Circle
All NDN Changemaker Fellows that successfully complete the fellowship may participate in the Alumni Network. Alumni can join an optional virtual community called "Chatter", a private platform to stay connected with other Fellows and share new resources and opportunities with one another.
---
For More Information:
General Grant Information & Technical Support
Telephone support
Call the NDN office at (605) 791 – 3999
Grant Purpose & Content
Serene Lawrence, Program Officer [email protected]
Helen Aldana, Program Officer [email protected] (English or español)
---
---