NDN Collective supports on the ground action to further our mission to build the collective power of Indigenous Peoples, communities and Nations to exercise our inherent right to self-determination while fostering a world that is built on a foundation of justice and equity for all people and the planet. We believe in, invest in, and support Indigenous self-determination.
We support frontline organizers, action and movements in their work to:
Defend
Indigenous Peoples, communities and Nations defend and protect our land, air, water, and natural resources.
Develop
Indigenous Peoples, communities, and Nations are developed in a regenerative and sustainable manner based on our values and connection to land, culture and identity.
Decolonize
Indigenous ceremonies, cultures, languages, and ways of life are revitalized, recognized and celebrated.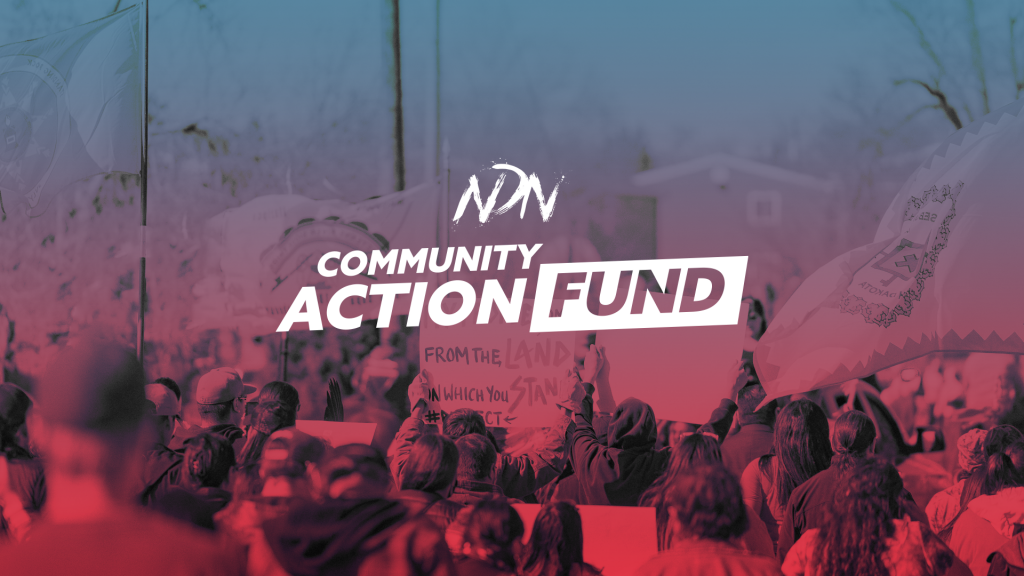 Community Action Fund (CAF) – Purpose & Intent
NDN is deeply committed and connected to the Indigenous movement space and what is happening on the ground for Indigenous activists. NDN Foundation's Community Action Fund (CAF) provides urgent response grants that move money into the movement space to help further Indigenous Peoples' agendas as it relates to the defense, development, and decolonization of our peoples and the planet.
According to NDN Foundation Managing Director Gaby Strong, "The Community Action Fund provides grants to groups and individuals most impacted by local challenges, ensuring that resources and decision-making ability lies with those most affected by the results and most equipped to solve pressing challenges and address imminent threats. We prioritize frontline, grassroots and community-based efforts that defend our people, communities and nations against negative resource extraction that poisons our people, pollutes our water, destroys our lands, contributes to climate change and violates our human rights."
What does support look like
CAF will support efforts that include community organizing, amplification of community voices, and utilize a wide variety of tactics imperative to shifting the political and financial systems that are impacting our communities.
Areas of emphasis may include: climate justice and racial equity efforts, challenging the extractive industry, accelerating the just energy transition in Indigenous communities, healing justice work within the movement, training the next generation of community organizers, and specific Landback efforts that connect, coordinate, resource and amplify the movement and communities that are fighting for Landback; the reclamation and return of Indigenous lands to Indigenous hands. Direct expenses may include funding for travel, supplies, equipment, consultants, contractual services and staff that support various forms of NVDA (non-violent direct action), i.e.; marches, camps, boycotts, prayer vigils as a form of resistance, organizing or protest to affect change. Action may also include community-based response to climate events such as flooding, fires, earthquakes.
Grant Eligibility
NDN's geographic grantmaking focus is Turtle Island or North America and its post colonial borders, which includes the United States, Mexico, Canada and the U.S. "Territories": American Samoa, Guam, the Northern Mariana Islands, Puerto Rico and the U.S. Virgin Islands. Grantmaking may be provided to the following recipients:
Indigenous-led non-profit organizations within the U.S.
U.S. based Tribes, tribal non-profit entities or tribal programs, Alaska Native Villages or their non-profit entities
First Nations or Inuit and Metis communities, groups and organizations based in Canada
Indigenous communities, groups and organizations based in Mexico
Individual Indigenous people leading direct action or movement building work.
Key Considerations
A viable Community Action effort must have the following attributes in order to be considered:
Relationships in community and on the ground (known partners, including community relationships, partnerships and other supports, networks and allies)
A clear intention with clear result, including the strategies, tactics and mechanism to move it forward.
We prioritize grass-roots, community-based groups and organizations with limited annual budgets of no more than $1 million and with limited access to donors
In order to receive an NDN Foundation grant, you or your group/organization must have a Tax Identification Number. You can apply as a non-profit organization, as an individual, a Tribe/First Nation, or as a business. The tax identification of the organization or individual becomes responsible for accountability of the grant and/or taxable income if applicable, and must be submitted with the application.
Community Harmony and Safety Protocols – Applicants are required to share their community harmony and safety protocols related to the COVID 19 Pandemic and prevention/protection of participants from the harms of physical/sexual abuse or exploitation.
The Community Action Fund does not support:
Ongoing planned projects/activities/service delivery programs
Annual operating costs
Bridge/gap funding
Scholarships
Capital projects or land purchase
Grant Amount:
The average grant award is $15,000 but can range up to $30,000.
How to Apply for the Community Action Fund
April through October – Grant Applications can be submitted by clicking on the following link:
Timeline and Due Dates
The Community Action Fund Grant is available on an ongoing basis as funds are available, with online applications due around the 1st of each month, April – October.
Community Action Fund grant inquiries November -March can be made at: [email protected]
NDN Foundation staff team will review grant application materials and can be expected to respond within 3 weeks of receipt. CAF grantees selected will sign a grant agreement and submit payment information. A final report will be due within one month of completion of the grant term.
For more grants information contact:
English speaking applicants: Kami-Rae James, Program Officer, at kamirae@ndncollective.org
Spanish speaking applicants: Nicole Yanes, Program Officer, at [email protected];
Applicants from Canada (including French speakers): Dr. PennElys Droz, Program Officer, at [email protected]
General grant information (English or Spanish) Tina Kuckkahn, Director of Grantmaking, [email protected]
Fluxx Portal Technical Support: Crystal Standing Bear, Program Associate [email protected]
Tiana Begay, Grants & Data Analyst: [email protected]
Billie White, Grants Manager: [email protected]
All other general grant inquiries: [email protected]